At the end of every arm day, if you hear a little voice whispering in the back of your head to rep through just one more round of curls to make that bicep pop, you're not alone.
Your arm muscles might not be so receptive to all that extra work you're putting in — but all hope of bicep gains is not lost.
Advertisement - Continue Reading Below
With the right tweaks to your training plan and some work, you can add sizable girth to your guns you could only have dreamed of using an old, stale routine. Start by correcting these four common mistakes, and you'll be on your way to bigger, better biceps.
Start off by mastering the perfect bicep builder: the dumbbell curl.
Don't Ignore The Brachialis
Your bicep is comprised of two heads — hence the "bi" in the name — the long head and short head. But there's also an elbow-flexing muscle called the brachialis, which shouldn't be forgotten in your training plan if pumping up your biceps is the goal.
That starts with exercises using a hammer grip, but to truly isolate the brachialis, focus less on the weight being moved and more on using constant tension. This means bringing the weight down fairly slowly, squeezing your muscles during every bit of the rep, and not locking out or "pausing" when the tension is off the muscle.
Try this unique spin on the conventional hammer curl as one way to isolate this muscle:
Advertisement - Continue Reading Below
Put one knee up on the seat (the opposite side of the arm you're going to be curling with) and put your elbow in a fixed position on the preacher's bench. Slowly lower the weight until you reach full extension. Curl it back up with control.
This single-arm variation of a classic exercise locks your elbow in a fixed position and helps you achieve a full range of motion. The reps are harder than they look, and you should feel a great stretch in your biceps and forearms if you are doing them correctly.
Don't Neglect Your Grip Strength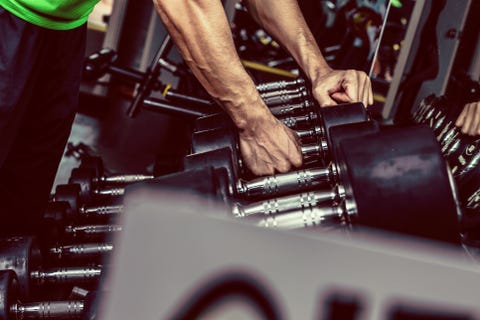 Getty Images
graphixel
Do you remember that hand-held grip thingy your dad had? Maybe it's time for a comeback.