It's marathon training season and, as you prepare to start training for the slog of 26.2 miles, let Women's Health Digital Editor Amy Hopkinson help you along the way with her our running podcast,
WELL FAR: The Running Podcast.
Advertisement - Continue Reading Below
---
What to expect from WELL FAR: The Running Podcast
Designed especially to accompany runners on the journey to 26.2 miles this spring, WELL FAR is a friendly and informative guide to what might be the toughest challenge of your life yet.
Not one of the 40,000 runners taking part in London Marathon? No problem. Each episode is made up of expert running tips, plus an interview with someone on a 2019 mission whose weekly mileage plays a major part in achieving their goal.
Whether you want commentary, education or inspiration there's a section in there for all.
Stay tuned for 15 episodes of:
Running commentary from Amy's own training journey
Interviews recorded live on runs
Actionable advice from the UK's best coaches
Exclusive chats with Team GB athletes
Ready yourself for the likes of Dina Asher Smith, Sophie Power who ran the Ultra-Trail du Mont-Blanc whilst breastfeeding, Wendy Searle who is training for a brutal Arctic challenge and celebrity personal trainer Dalton Wong.
> View this post on Instagram

It's here... WELL FAR, my new weekly running 🎙. It's been designed to follow the marathon journey but there's a wealth of advice in there for anyone not training for 26.2 too. _ This week I bring you the best advice on trainers and the socks to stop blisters from @emmakirkyo and I go running with @rw_ed_andy to learn why it's OK to not give up 🍷 while #marathontraining (LINK IN BIO). _ It's been such a labour of love and to be honest, i'm still finding my feet with podcasting because no expert became over night, right?. So please do listen, review and LMK what you'd like more of. I'm working with an excellent team @mags.creative and have partnered with @pukkaherbs to make this project a reality. _ So the question is: who's going running and who's going to listen while they do? And who's going to join the #wellfar running community this year? Let's go the distance together

A post shared by Amy Hopkinson (@wellness_ed) on
---
WELL FAR: The Running Podcast episodes
Keep up to date with the weekly podcasts here, on iTunes or all other major podcast platforms. Plus, you're in luck:
we'll be updating this page every week to include links to every podcast.
Episode 1: Best foot(wear) forward and having a plan
With host Amy, footwear expert Emma Kirk-Odunubi and Runner's World Editor Andy Dixon.
Advertisement - Continue Reading Below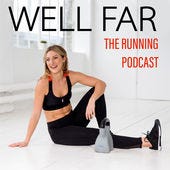 Well Far: The Running Podcast
Mac
itunes.apple.com
Listen Now
WELL FAR is produced by Mags Creative, the creative production team behind successful podcasts such as Deliciously Ella: The Podcast and Do Mind.
Source : https://www.womenshealthmag.com/uk/fitness/running/a25844107/well-far-podcast/