SOURCE: Genomic Health, Inc.

>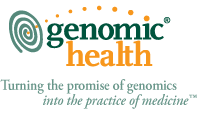 >
March 09, 2011 08:00 ET
Fight Colorectal Cancer and Genomic Health Launch Unique Online Resource for Colon Cancer Patients
My Colon Cancer Coach Is the First Patient-Focused Interactive, Online Tool for Newly Diagnosed Colon Cancer Patients
REDWOOD CITY, CA--(Marketwire - March 9, 2011) - Genomic Health, Inc. (NASDAQ: GHDX), in partnership with Fight Colorectal Cancer, today introduced >My Colon Cancer Coach, a unique online tool that provides patients with a personalized report of their specific type of colon cancer. Coach empowers patients with individualized information based on a number of key clinical questions to engage in a more knowledgeable dialogue and an active role with their healthcare team.
Coach launched today at Fight Colorectal Cancer's Call-on Congress event in Washington, D.C., and is available on Fight Colorectal Cancer's website and at www.mycoloncancercoach.org. The Coach tool is narrated by Richard M. Goldberg, MD, Distinguished Professor of Gastrointestinal Cancer Research and Associate Director for Clinical Research at the University of North Carolina's Lineberger Comprehensive Cancer Center, who is on the Medical Advisory Board of Fight Colorectal Cancer and is a volunteer with the organization. Coach walks patients through a simple questionnaire with audio guidance to help them better understand key colon cancer terms and important information about their diagnosis. Based on information provided by the patient, Coach creates a customized report for patients to share with their doctor as they discuss treatment options.
"The first few weeks following a colon cancer diagnosis can be overwhelming for a patient, especially when there is so much information to sift through," said Carlea Bauman, President of Fight Colorectal Cancer. "Fight Colorectal Cancer was pleased to help create My Colon Cancer Coach because it helps patients get important information that addresses their specific diagnosis."
My Colon Cancer Coach includes a host of important resources, including information on tumor testing and treatment options, which are designed to address the questions and concerns of newly diagnosed patients. The goal of the resource is to encourage patients to have educated conversations with their doctors, ultimately leading to more personalized, tailored treatment.
"Genomic Health is committed to helping physicians and patients enhance the quality of treatment decisions through the individualized genomic analysis of a patient's tumor tissue," said Kim Popovits, President and CEO of Genomic Health. "My Colon Cancer Coach was designed to help patients better understand their diagnosis and treatment options with the goal of facilitating more meaningful discussions with their doctors."
My Colon Cancer Coach joins My Breast Cancer Coach, an online patient resource for newly diagnosed breast cancer patients offered by Breastcancer.org and Genomic Health. Both tools help patients with cancer learn more about their diagnosis and provide them with information so they can take an active role in making decisions about their treatment.
About Genomic Health, Inc.
Genomic Health, Inc. (NASDAQ: GHDX) is a molecular diagnostics company focused on the global development and commercialization of genomic-based clinical laboratory services that analyze the underlying biology of cancer allowing physicians and patients to make individualized treatment decisions. Its lead product, the Oncotype DX® breast cancer test, has been shown to predict the likelihood of chemotherapy benefit as well as recurrence in early-stage breast cancer. In addition to this widely adopted test, Genomic Health provides the Oncotype DX colon cancer test, the first multigene expression test developed for the assessment of risk of recurrence in patients with stage II disease. As of December 31, 2010, more than 10,000 physicians in over 60 countries had ordered more than 190,000 Oncotype DX tests. Genomic Health has a robust pipeline focused on developing tests to optimize the treatment of prostate and renal cell cancers, as well as additional stages of breast and colon cancers. The company is based in Redwood City, California with European headquarters in Geneva, Switzerland. For more information, please visit www.genomichealth.com.
About Fight Colorectal Cancer
Fight Colorectal Cancer demands a cure for colon and rectal cancer. We educate and support patients, push for changes in policy that will increase and improve research, and empower survivors to raise their voices against the status quo.
This press release contains forward-looking statements within the meaning of the Private Securities Litigation Reform Act of 1995, including statements relating to the company's expectations of the value and utility to physicians, patients and payors of its colon cancer test, the company's expectations as to the clinical utility of its colon cancer test for patients with stage II colon cancer, the belief that our prior development and commercialization strategy can be applied to a test for colon cancer, the reproducibility of initial study results, the timing and success of the company's plans to launch a test for mismatch repair status, the applicability of clinical study results to actual outcomes, our beliefs regarding the prerequisites necessary to develop a test for colon cancer, and our expectations regarding future growth of the company's business. Forward-looking statements are subject to risks and uncertainties that could cause actual results to differ materially, and reported results should not be considered as an indication of future performance. These risks and uncertainties include, but are not limited to: the risks and uncertainties associated with the regulation of the company's tests; the impact of competition, the results of clinical studies; the applicability of clinical study results to actual outcomes; and the other risks set forth in the company's filings with the Securities and Exchange Commission, including the risks set forth in the company's Quarterly Report on Form 10-Q for the quarter ended September 30, 2010. These forward-looking statements speak only as of the date hereof. Genomic Health disclaims any obligation to update these forward-looking statements.
NOTE: The Genomic Health logo, Oncotype, Oncotype DX and Recurrence Score are trademarks or registered trademarks of Genomic Health, Inc. All other trademarks and service marks are the property of their respective owners.
Contact Information
Media Contact:

Dayna Hochstein

202-955-6222

Source : http://www.marketwired.com/press-release/fight-colorectal-cancer-genomic-health-launch-unique-online-resource-colon-cancer-patients-nasdaq-ghdx-1408403.htm