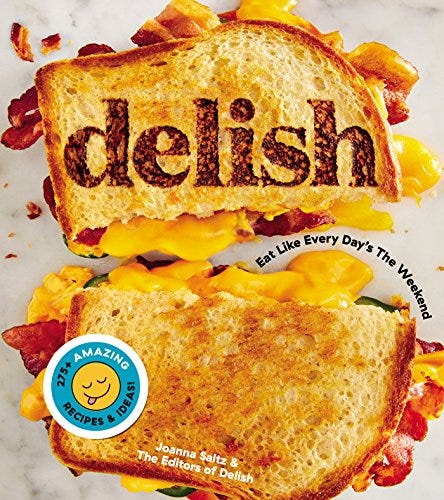 Delish: Eat Like Every Day's the Weekend amazon.com $30.00 $19.49 (35% off) Shop Now
Today in "DROP EVERYTHING" news, Santa-themed Toy Story Alien popcorn buckets have officially been spotted around Disney World, marking the official open of Disney holiday seas. The Disney Food Blog reports they are currently being sold at select popcorn stands throughout Hollywood Studios.
Customers are reportedly limited to just two of the souvenir buckets each, probably because the last time Disney rolled out these alien dudes in popcorn bucket form, they sold out ASAP. This time around, though, instead of the baby blue outfits you know and love, they're in Santa hats and suits.
Let's talk more extensively about how cute they are, because, ugh, they are so cute! In fact, they are so insanely cute that they're already taken over Instagram entirely, flooding the Hollywood Studios geotag with their festive little faces. Many report having to wait on the longest lines of their Disney lives in order to get one, let alone two:
> View this post on Instagram

I'm here for CHRISTMAS Toy Story Land! 🎄❤️🎄💚 We scored a Fastpass for Slinky Dog this morning and were greeted with all the festive decorations AND this amazing alien popcorn bucket! I can't handle all the characters in their holiday attire 😍 Swipe through to see it all!🎄 • #hollywoodstudios #toystoryland #alienpopcornbucket #disneychristmas #mvmcp #disneybuttons #wdw #disneypopcornbucket #disneymom #toystory #disneyworld

A post shared by Main Street Buttons (@mainstreetbuttons) on
> View this post on Instagram

I am in love with this guy! #alienchristmaspopcornbucket #alienpopcornbucket #popcornbucket #hollywoodstudios #disneyhollywoodstudios #christmasdecor #disneyaddict #disneyadventures

A post shared by Ashley (@ashley_and_bob) on
> View this post on Instagram

ALERT ALERT! This alien popcorn bucket just landed at Hollywood Studios and it's SO CUTE I RAN HERE!! It's $25 (😭) and limit two per person. #alienpopcornbucket #hollywoodstudios #waltdisneyworld #toystoryland #littlegreenmen #santaclaus #theclaus #alien

A post shared by Casey 🎀 ParkboundButtons.com (@caseyandthebear) on
> View this post on Instagram

When you are knee deep in vacation quotes and working on blog posts, but you find out these super cute Christmas Alien Popcorn buckets have landed at Hollywood Studios, you stop what you are doing and rush out the door to snag one!! 🛸🍿Yall, I never seen lines like this for a popcorn bucket, but it was worth the wait! For $25, this bucket can be yours, but HURRY! 🏃‍♀️These cute little things are going to sell out! 🎉 . . . . #hollywoodstudios #toystory #tsl #toystoryland #MagicKingdom #disneyworld #disney #christmas #alienpopcornbucket #waltdisneyworld #disneyside #dailydisney #disneyfan #disneyaddict #disneygram #wdwbde #disneyig #travel #fun #familytravel #family #vacation #familyvacation #travelagent #disneytravelagent #disneytravelplanner #travelagentlife #marvelousmousetravels

A post shared by Molly Davis (@mollymmt) on
The buckets are $25 each, but once you've got them, it only costs $2 for a popcorn refill. Get yours now before they sell out entirely, which hopefully won't happen before they even make their way to Disneyland! Report back once you have yours so we can "ooooooh" (and "ahhhh," I guess) about it together.
Source : https://www.delish.com/food/a24845639/disney-world-christmas-alien-popcorn-buckets/